Democratizing AI with No Code
: APARA / MyFinB partnership launches programme to help those without knowledge of coding and programming build AI solutions
Singapore, 2 Sep 2021 – In recent times, there has been a flurry of activity around platform offerings targeted at users with little or development experience. The Centre for AI Innovation (CEAI), powered by MyFinB and in partnership with the Asia Pacific Assistive Robotics Association (APARA), challenges new boundaries of AI adoption. Collectively, they have successfully launched the world's first 3-in-1 Certification in Applied AI (CAAI) in Singapore where personnel get to learn, build and deploy solutions without the need for coding or programming.
The CEAI/MyFinB created AI as a platform forms part of a new generation of low-code and no-code platforms that are designed to make it relatively easy for people to design, build, and launch applications quickly, without having to worry about the nuances of underlying operating systems or scalability requirements.
According to Prof M Nazri, Founder, the Centre for AI Innovation (CEAI), "When company leaders talk about democratizing artificial intelligence (AI), we can expect more people with access to raw data of knowledge, tools, and data required to build an AI system. This will result in more innovations and intellectual property assets that are impactful, that are bound to emerge. Efficiency improves and engagement increases while the misconception about AI being costly, exclusive to only technical people and very resource intensive – gets eradicated slowly.
"Our partnership with APARA, together with their vast international and domestic network on promulgating AI education makes these new technologies more accessible and affordable. It also expands the possibilities of what businesses and governments can accomplish and fuels competition. CAAI essentially allows the creation of a marketplace for data, algorithms, and models. APARA plays an important role in this initiative and we look forward to working with them and ensure AI brings positive impact to stakeholders"
Said Ms Shanlynn Lee, "Disruptions like the pandemic are no longer uncommon and unpredictable 'black swan' events. The high threat of natural disasters, political unrest, economic crises, and pandemics will continue, so enterprises must build the capabilities they need to mitigate such disruptions. Many companies make promises about AI, it's hard to know what's real and what's not. However, a set of common factors to consider includes, less costs, shorten time, and proven test cases."
"This partnership of APARA with CEAI brings exactly what is needed by today's emerging and successful businesses – the adoption of 'disruptive AI' solutions," Ms Lee continues.
Mr Oliver Tian, Honorary Advisory Mentor to APARA adds, "Having been involved with AI and Robotic technologies since the late 80's, I have seen two AI winters and the rapid evolution of converging technologies. The time is ripe to take a revolutionary approach to building AI solutions. Dynamics in the businesses today can't wait for the standard build-from-scratch approach & development cycle to benefit from AI solutions."
Mr Tian further affirms, "Time-to-market is of the essence; we cannot accept the long gestation period. Using AI-as-a-platform to accelerate the adoption of AI technologies will not only benefit the organization, but also develop a new breed of 'Power-AI Talents' who can build AI applications with no-code."
The CAAI is a 3-month online programme comprising of three levels: Foundation, Intermediate and Advanced. The CAAI comes with a guided, systematic approach where participants are able to convert their knowledge, experience and domain expertise onto MyFinB's proprietary AI-as-a-Platform without the need for coding or programming. The primary objective of CAAI is to remove all barriers associated with learning, adopting and implementing AI such as lack of expertise, unclear ROI, shortage of talents, high costs, lengthy implementation process and more. Find out how we achieve to overcome these issues through various case studies and use cases.
The CAAI introduction video at this link: https://youtu.be/tVXvnCztpqs while the latest CAAI detailed course outline can be downloaded here: https://myfinb.com/download-file/13006/
For more details on CAAI, you can contact the the representative from APARA, secretariat@apara.asia or via (+65) 9457 0803.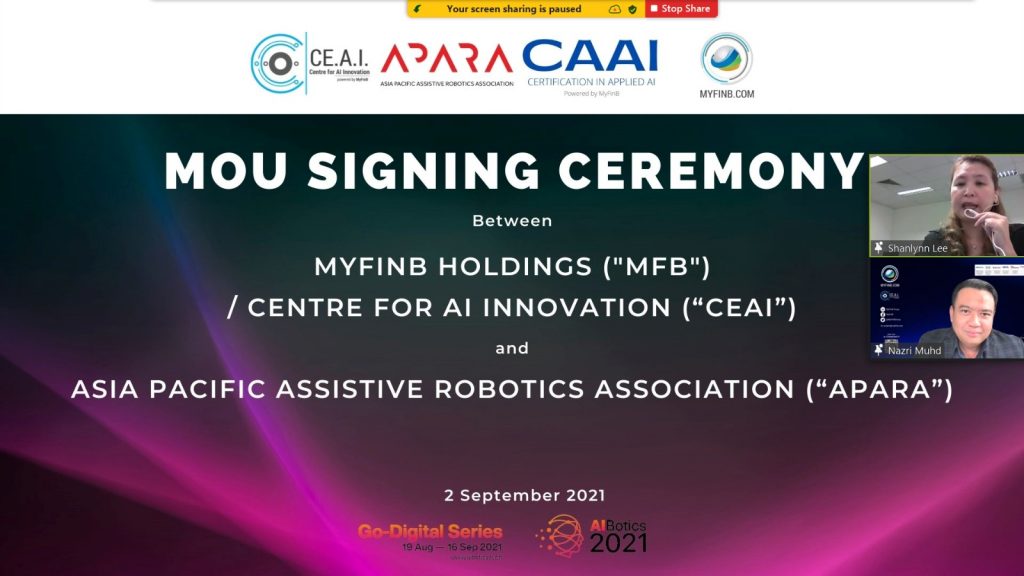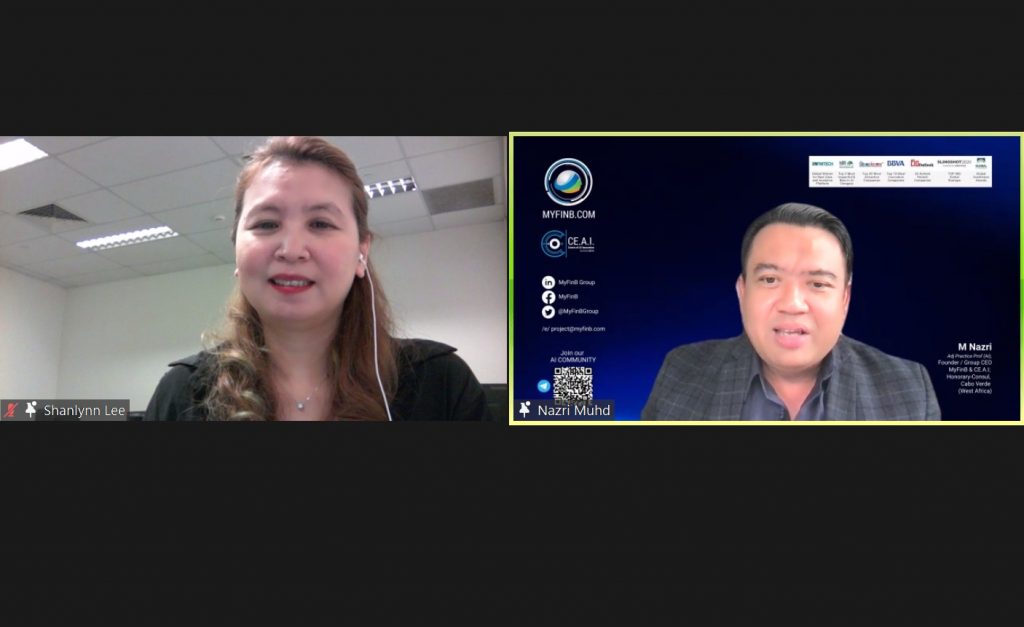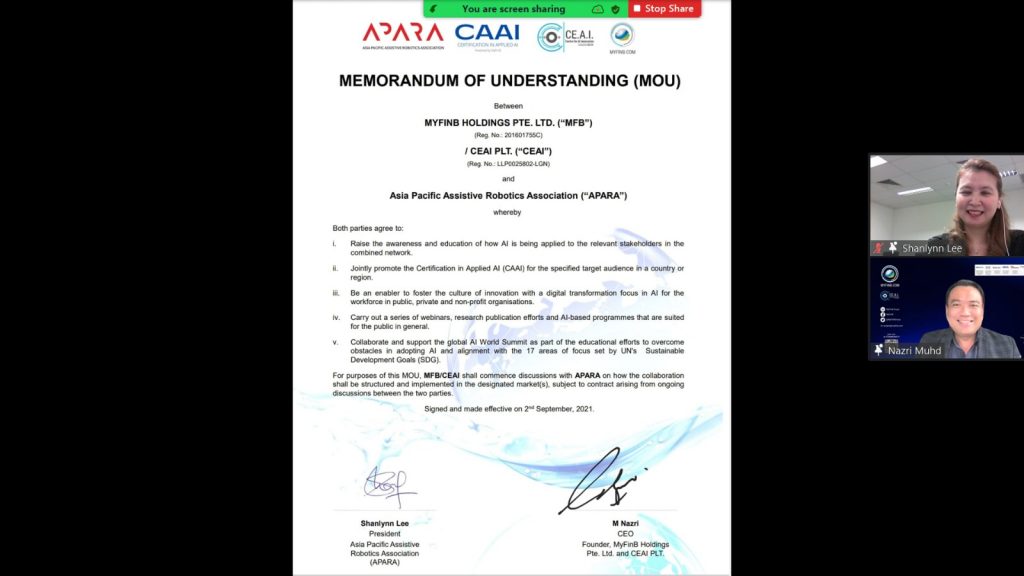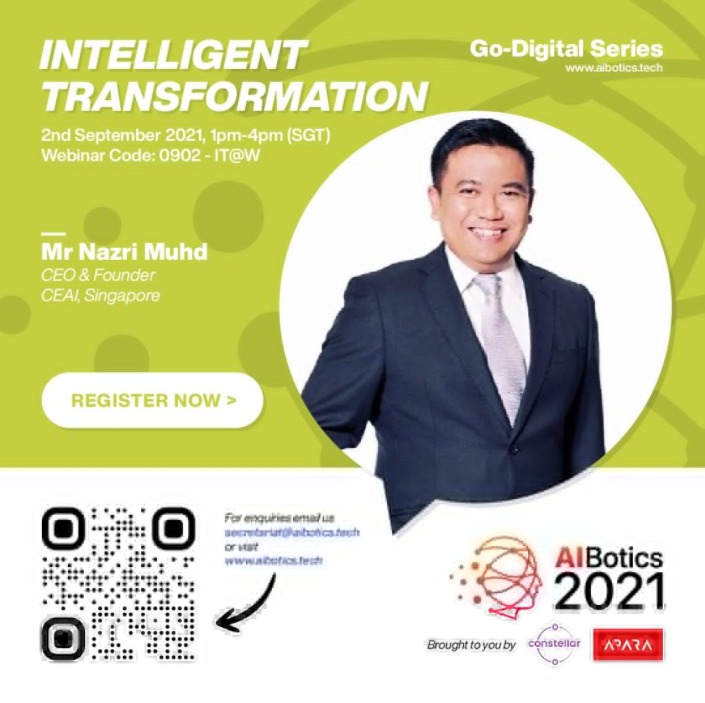 MyFinB is an award-winning, high growth AI start-up with core operations in KL/SG and serving more than 30 markets globally.
We specialise in Artificial Intelligence and Natural Language Generation & Understanding (NLGU). Our AI-powered solutions translates structured data (financial statements, bank statements, incorporation info) and unstructured data (publications, social media, journals and video images) into decisioning reports.
MyFinB uses its proprietary NLGU and Cognitive Analytics capabilities to serve 10 core segments: Financial institutions, Enterprises / SMEs, Accounting and Auditing Firms / Consultants, Government Agencies , Credit bureaus, Stock Exchanges, Insurers, Trade Associations and Business chambers, Universities and Investment Promotion Agencies.
For more details, please visit www.myfinb.com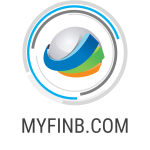 APARA (Asia Pacific Assistive Robotics Association) is a young association founded on the motivation to help users leverage digital technology to augment human potential. In particular, our team study aspects of the Ethical and Responsible use of AI and Robotics applications. Our membership comprise both users and suppliers of technology in the industry. We collaborate with counterpart industry associations with a common cause as well as research institutes and universities on practical research projects.
APARA is a network of organizations and professionals in Singapore and the region who are passionate about technology augmenting the workforce vis-à-vis workforce displacement. We comprise academicians, government agencies, industry players and end-users. We aim to reach out to the larger community to:
Enhance the Use of Robotics to augment Human Potential
Stay Connected with a Network of Technology Enablers
Assist Users to Enjoy the Experience of the Transformation Journey
For more details on CAAI, you can contact the the representative from APARA, secretariat@apara.asia or via (+65) 9457 0803.