MyFinB Founder Ranked #1 Globally by Thinkers360
: Thought Leader in AI, Predictive Analytics & Digital Transformation
Singapore, Singapore (12, July 2021) – We are pleased to share that the Founder of MyFinB Group and the Centre of AI Innovation (CEAI) as well as Chairman of the AI World Summit, Adj Practice Professor (AI), M Nazri is ranked #1 globally in 3 categories by Thinkers360 as at 11 July 2021:
Digital Transformation

Predictive Analytics

Artificial Intelligence
He has been the key architect and developer for the design, development and implementation of expert solutions for public, private and non profit segments globally in sectors such as finance, education, healthcare, manufacturing, consumer, supply chain and many more.
Nazri has been ranked based on ThoughtLeaders' algorithms that computed his involvement in AI/Predictive analytics/ Digital transformation-related events, publications, speaking engagements, entrepreneurial activities – and compare against the global peers in these categories.
According to Nazri, "The recognition motivates my team and I even more to advocate and implement AI solutions with industry partners to solve key issues – aligned with the Sustainable Development Goals (SDG). "
For more enquiries, please email to corpcomms@myfinb.com.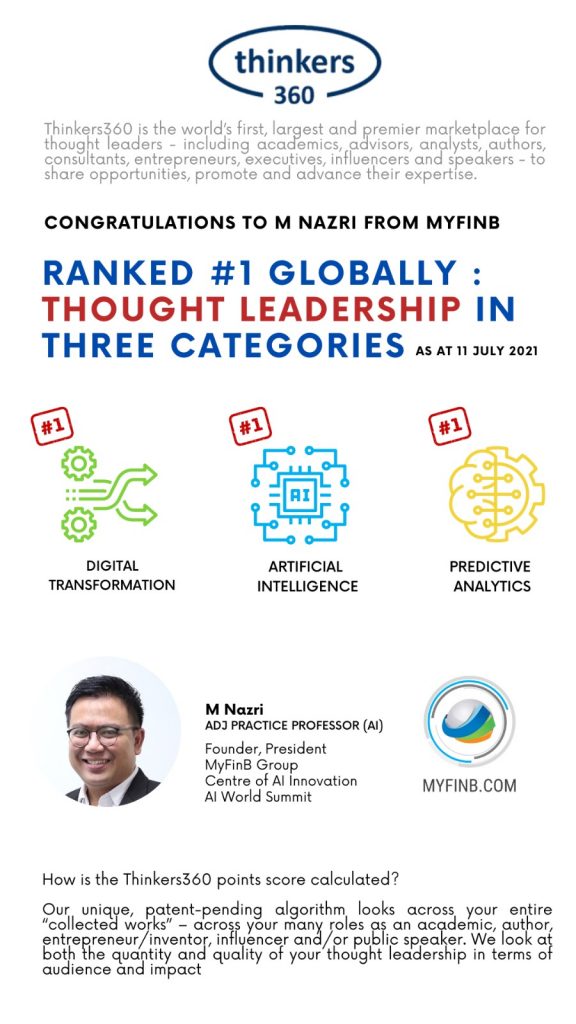 Ranking - Top 50 Digital Transformation
Ranking - Top 50 Artificial Intelligence
Ranking - Top 50 Predictive Analytics