MTDC, EAC And MyFinB Signs Tripartite Mou To Drive Big Data And Analytics Via Centre Of Excellence For Artificial Intelligence Innovation (Ce.A.I@Co9P)
: Launch of Centre of AI Innovation (CEAI) with MTDC
Kuala Lumpur, Malaysia 8th June 2021 – Malaysian Technology Development Corporation (MTDC), Expert Analytic Centre (M) Sdn Bhd (EAC) and MyFinB (M) Sdn Bhd ( MyFinB) today sealed a memorandum of understanding (MoU) to co-develop and drive a virtual Centre of Excellence for Artificial Intelligence Innovation (C.E.A.I) as the strategic centre to conduct the research, design and development of Big Data and Analytics driven by Artificial Intelligence (AI) and to develop in-house capabilities for MTDC in Artificial Intelligence and Data Analytics.
The Virtual Signing ceremony were signed in the presence of Dato' Norhalim Yunus, Chief Executive Officer of MTDC, Razi Phalavi Abdul Aziz, Director of EAC and Datuk Dr. Mohd Daud Bakar, Chairman of MyFinB. Witnessses for the signing was Mohammad Farish Nizar Othman, MTDC Director of Corporate Services and Lim Siong Beng, Chief Operating Officer of EAC and MyFinB. The session was also streamed LIVE on MTDC's Facebook page and witnessed by representatives from MTDC, EAC and MyFinB senior management team of all parties respectively.
The MoU will enable all three parties to collaborate and cooperate in the areas of artificial intelligence, data analytics and deep technologies. It will also raise awareness and educate general public, agencies and businesses in Malaysia on the use of artificial intelligence, data analytics and deep technologies for organisational transformation. All three organisations are committed to share knowledge, best practices, case studies and experiences on how artificial intelligence is deployed.
MTDC's Centre of 9 Pillars™ (Co9P™) will be the launch pad for the entities to infuse artificial intelligence, data analytics and deep technologies capabilities to cultivate innovative and cutting-edge technologies while gradually transferring the knowledge of AI technologies to local businesses and individuals. The Co9P was built as a community hub and is a dedicated centre for industry 4.0, complete with Maker labs and co-working space. The centre enables MTDC to assist in identifying local talent and in the creation and development of i4.0 technopreneurs.
The C.E.A.I will be able to churn out data that can be used by human workers to get a complete 360-degree view of each customer. This will enable the application of AI to improve one's business. This centre will involve people and Artificial Intelligence technology to work together. Businesses will now be able to use this to their advantage as the means to increase productivity. Kicking off the MoU will be a number of introductory sessions on AI solutions available from the C.E.A.I. Target participants will be from the host and partner universities.
"It is our hope that this collaboration will enable MTDC to expand its offerings to include AI-based services within its Advisory and Value-Added Services offerings, incubation and AI-related trainings to SMEs, Students, Government Officials, Universities/Research Institutions as well as Individuals. The tripartite collaboration will boost the immense potential in developing local talents to be i4.0 savvy and to accelerate local SMEs to achieve the nation's digital transformation agenda as part of the Industry4WRD policy" – said Dato' Norhalim Yunus, Chief Executive Officer MTDC.
"MyFinB and EAC partnership with MTDC via the CEAI@Co9P, will see more than 10 AI-based projects – around half of them are in technology readiness level (TRL) 9 – that will be spun off into new Malaysian start-ups by this year. The projects focus on the application of AI on Supply Chain, Counselling, School Dropouts, Dialysis Treatment, Financial Planning, Waqf Land Optimisation, Integrated Reporting, Cooperatives, Audit Practice Platform, Start-Up Potential, Capital Markets and SSM Business and Financial Analysis.
This initiative forms part of the CEAI's core business model of technology development, capacity building and venture building programme. With the right support and nurturing, we can create new employment and create a new talent pool of data analysts and researchers in the AI field in Malaysia. My vision is for Malaysia to create a more technology inclusive ecosystem through the centre, especially in the AI and analytics field," mentioned Datuk Dr. Mohd. Daud, Bakar Chairman of MyFinB during the MoU ceremony.
"At EAC, we are accelerating efforts to explore deeper into these three areas to consider how AI and data analytics could fuel other opportunities, including: Enhanced regulatory compliance, "Mass personalization" of products and services, as well as Asset intelligence. To become a true AI-fueled organization, a company may need to fundamentally rethink the way humans and machines interact within working environments.
EAC is committed to support MTDC's Centre of 9 Pillars and aims to facilitate Malaysian industries, academic institutions and government stakeholders by jointly building a suite of impactful technologies that can shape Malaysia's economy and industries," quoted En. Razi Phalavi Abdul Aziz, Director of EAC.
For more enquiries, please email to corpcomms@myfinb.com.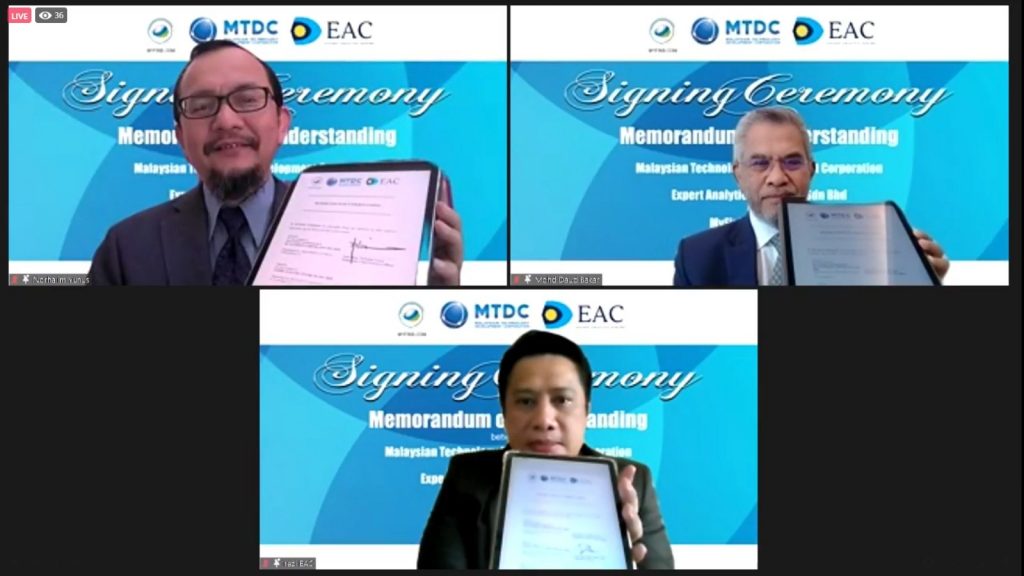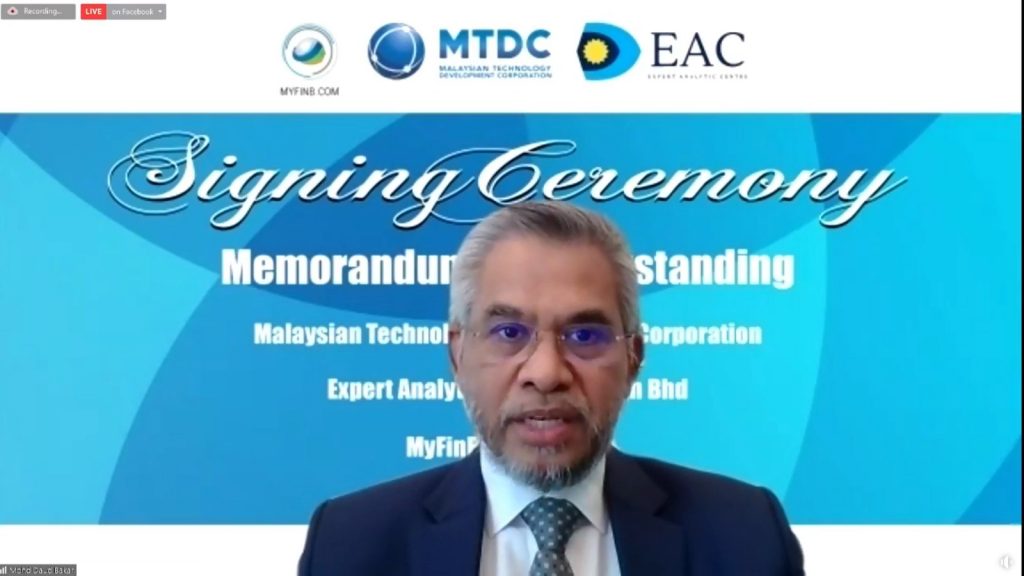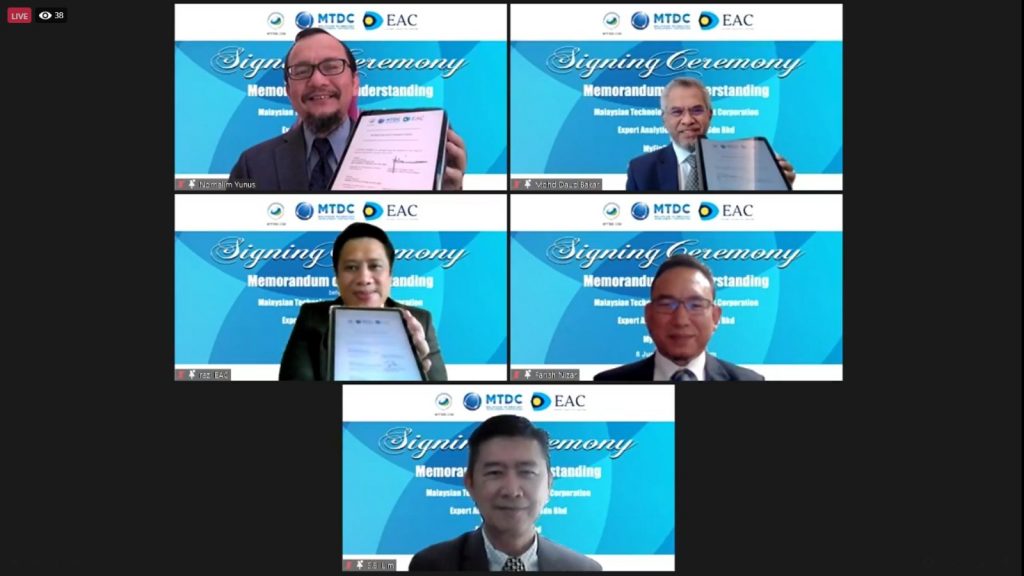 About MyFinB
MyFinB is an award-winning, high growth AI start-up with core operations in KL/SG and serving more than 30 markets globally.
We specialise in Artificial Intelligence and Natural Language Generation & Understanding (NLGU). Our AI-powered solutions translates structured data (financial statements, bank statements, incorporation info) and unstructured data (publications, social media, journals and video images) into decisioning reports.
MyFinB uses its proprietary NLGU and Cognitive Analytics capabilities to serve 10 core segments: Financial institutions, Enterprises / SMEs, Accounting and Auditing Firms / Consultants, Government Agencies , Credit bureaus, Stock Exchanges, Insurers, Trade Associations and Business chambers, Universities and Investment Promotion Agencies.
For more details, please visit www.myfinb.com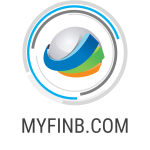 About EAC
Expert Analytic Centre (EAC) was founded by leading global Shariah scholar Datuk Dr Mohd Daud Bakar and AI Strategist Adj Professor M Nazri in 2013 – as the Malaysia's focal centre to help accelerate Malaysian organisations' adoption of big data analytics and AI.
EAC facilitates cross-disciplinary research, teaching and leadership on the ethical, regulatory and legal issues relating to Artificial Intelligence (AI) and digital technologies.
For more details, please visit www.myfinb.com/eac

About MTDC
Malaysian Technology Development Corporation Sdn Bhd (MTDC) a wholly-owned company of Khazanah Nasional Berhad, and as an agency under Ministry of Science, Technology and Innovation (MOSTI) was established in 1992 to encourage technology acquisition activities and to develop technology-based companies.
Besides fund management, MTDC also provides an integrated support services for technopreneurs which includes Technology Centre Management, Technopreneur Training Academy (TENTRA), Centre of 9 Pillars™ (Co9P™) and advisory services such as mentoring, soft-landing, branding, fund raising, international collaboration and networking. MTDC's commercialisation ecosystem has provided funding and assistance to over 500 technology-based companies that are involved in a wide range of activities ranging from the agricultural sector to ICT.
For more details, please visit www.mtdc.com.my