"MyFinB: Financial Doctor for Businesses using A.I"
"A.I could create a world where human abilities are amplified as machines help mankind process, analyze, and evaluate the abundance of data that creates today's world" 
Singapore, 05th January 2019 – Imagine this: Hundreds of loan applications reached the inbox of a bank officer. He is already swarmed with the previous submissions. He has to review the applications and meet the various expectations of the credit risk and marketing departments. Here's another scenario: A mid-sized audit firm is experiencing its peak season with thousands of accounts to review within a deadline. The firm has to make sure that the risk exposures to all the clients' accounts have been adequately identified.
Today, such situations are ubiquitous in most of the financial institutions and audit firms as well as any heavy users of financial statements. Add to this is the delay in processing time owing to the presence of legacy, obsolete systems and a manual approach employed by these organizations during financial reviews. Coming as a relief for such customers is a fast growing international fintech start-up, MyFinB-with key operations in Singapore and Kuala Lumpur, Malaysia.
The firm turns structured and unstructured data into narrative insights to streamline the financial decisions. In this regard, the firm develops AI systems to transform financial data into actionable insights for Financial Institutions, Government Agencies, Accounting Firms, and other enterprises. "These AI tools help interpret target companies' and individuals' financial statements and other data to determine their financial health and thereby enable decision makers to better evaluate their loan/investment portfolio's risk and return characteristics," says M Nazri, Founder and Group CEO of MyFinB.
Using AI, MyFinB enables users to process thousands of financial statements in less than a day. "In the case for a bank, the turnaround time for processing and reviewing credit risk can be shortened by more than 600 percent." With MyFinB, bankers can dissect the entire financial value chain for garnering higher business opportunities and prospects. Bankers get insights into the potential risks associated with each banker and find out the good clients through MyFinB's analytical reports. The appropriate risk assessments enable bankers to attain significant cost savings and optimal capital allocation.
Adding to this, the banks can also build goodwill and brand loyalty with businesses by assisting rejected applicants to improve credit scores in a span of just six to eight months through customized financial roadmaps generated by the system.
From another perspective, government bodies, especially from emerging economies in Asia and Africa, have seen an increasing need to help the Small-Medium Enterprises (SME) become more bankable.
Many of them have sought MyFinB's assistance to conduct comprehensive financial health checks for the SMEs and address the reasons as to why 60 to 80 percent of them get rejected by financial institutions.
"If the SMEs submit an extract of their key balance sheet items, we can generate a 10-page analysis, focusing on a series of action steps to improve the balance sheet strength of companies (CFO focus); as well as recommending the types of financial instruments best suited for the balance sheet needs of a company (Banker focus)," added Nazri.
This is made possible because of MyFinB's ability to accurately mimic the way financial and business experts' human brains work-especially with the reasoning and heuristics aspects.
Another interesting use case:
The owner of a 50-man audit/tax/ accounting firm that has been in practice for more than 20 years feels that declining fees, tight margins, increasing risks and tighter regulations have been affecting his business.
The firm is considering merging with other similarly-sized firms facing the same plight but has so far not been successful.
It has also tried to increase its accounting clients through advertisements and digital marketing but realized that many others are doing the same. Another alternative was to build up a consulting team to render CFO services to clients, but costs and expertise did not commensurate with the benefits for its 1000-odd SME clients.
The solution?
MyFinB has made available a ROBOCFO platform that comes with an arrangement that would enable such firms to restructure and be reborn at the same time, by way of
a. creating a new entity that adopts horizontal expansion (outside of the typical audit, tax, accounting verticals) with a new AI/Analytics business–with digital assets injected by MyFinB.
b. owning part of MyFinB shares going for public listing that is expected to appreciate significantly in value through global expansion, mergers and acquisitions, and commercialized R&D efforts.
c. reaping benefits through a triple effect of higher equity value, higher IP value and higher sales growth with a new business model.
"When we first started out on this journey with a burning passion to transform industries and businesses, we aimed for one thing-inclusivity. This means that every business, big or small, must be given access to financial expertise that could help them manage their balance sheets better. Our tools must not be costly or inhibitive to the small players, and yet must be scalable enough to become viable in the longer term."
"As for the larger institutions, we are experiencing a high degree of interest and acceptance from them to build in-house departments that we call "Digital AI Lab" that can potentially turn their data into "gold" i.e. turning insights into strategic moves that boost their revenue, reduce costs and, avoid risks."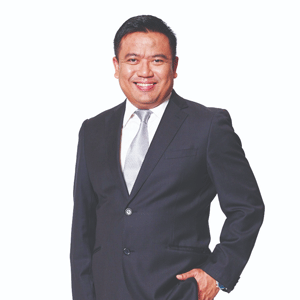 M. Nazri, CEO of MyFinB